Hi boss, do you always feel like having endless work to do?
'Well, of course, during this pandemic period,
"If there is a business opportunity, I will definity seize it,
otherwise, there will be no profits at all.'
From day till night, seeking for new business opportunities desperately,
Not to mention, the whole business development is all depends on you yourself,
Are you getting tired now?
Maybe,
Your company is only one step away from simplifying the business process.
A handy system solution can do it all for you.
'My business is still consider as small business,
I still can take care of it,
We don't need a system to help,
Will only consider it while my business gets bigger in the future.'
Our business needs a solution system not only to monitor business performance,
We have to believe that a systematic system may also boost your business's growth
Maybe, you are wondering, what is the sign of your business getting successful?
You can see if your business has meet the following 3 criterias:
Your sales process are
[Automated]
while handling billing and receiving payments whenever, wherever you are?
Your business are
【Systematized】
when comes to monitor and track stock inventory everyday?
Boss can be
[Humanized]
when comes to keep an eye on the overall financial performance?
If your business fulfills these three criterias above,
Congratulations! Your business is right on track to the transformation of digitized business.
But,
What if your business doesn't?
Alright, so you already read until here, this proves that you are still figuring how to improve your business to make it even better.
Maybe, we can lend a hand and help you!
Biztory has received numerous positive reviews from many SMEs in Malaysia that we can help your business adapt with advanced technology.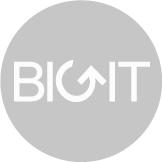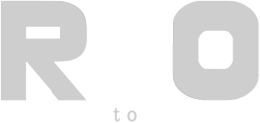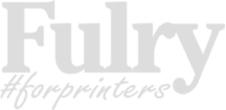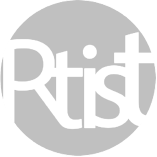 Because, all of them now have 【1 Automated System】, 【2 Big Useful Reminders】 , 【3 Quick Billing Steps]
【1 Automated System】
Manage your cash flow thoroughly and simplifies the process of generating your accounting reports
Regardless of what business you operate, all you need is an electronic device. Then, you are able to monitor your real time cash flow by viewing with Biztory Interactive Dashboard.
You don't have to spend extra time and effort to figure out what your business current cash flow is.
Also, Keep track of the company's financial and performance reports.
Save up your time from preparing your report, and spend the extra time to plan strategies for growing and developing your business.
【2 Big Useful Reminders】
Allow you not to miss out any changes for your business easily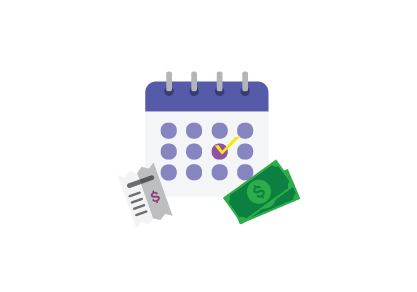 Send Overdue Invoice Reminder and Receive payments notice
You can send overdue invoices to your customers easily,and they can make immediate online payment to you via our payment gateway.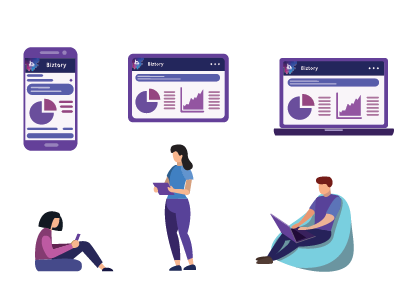 Insufficient Stock Alert and notifications
Track and update the daily stock quantity.
Inform you of insufficient stock in real time.
Pay attention to details for the hot selling products to avoid shortage problems.
[3 Quick Billing Steps]
Write – Save – Send
No matter whenever,wherever you are, all invoices can be prepared and sent to your customer 
Furthermore, you can also benefit from the【3 Major Business Management】
【Manage】Your Quotation & Invoice
More than 6,500 SMEs in Malaysia have experienced creating their invoices within 5 minutes. And even send out recurring invoices in just a click.
【Manage】Your Stock & Inventory
Allows business owners to reduce the office work of counting and recording inventory manually. Record inventory costs in a better way and improve your cost with more accuracy.
【Manage】Your Cash Flow & Overall Finances
Allow business owners to save up to RM5000+ in bookkeeping and avoid any human errors.
All financial reports are generated with a click. And it can be downloaded online whenever, wherever without relying on outsourcing.
Perhaps, you are considering, is Biztory really suitable for your business?
Don't worry about it!
Within five years, more than 6,500 companies in Malaysia have registered and used Biztory to manage their business!
Biztory surely suitable for most of the SMEs in Malaysia,
It only costs from as low as RM 99/month! !
Most of the SMEs companies are from E-commerce, trading, wholesale, service, beauty industry, IT, and other industries are suitable to use, and even can be used by freelancers.
Let's see why Biztory is trusted and recognized by SMEs in Malaysia.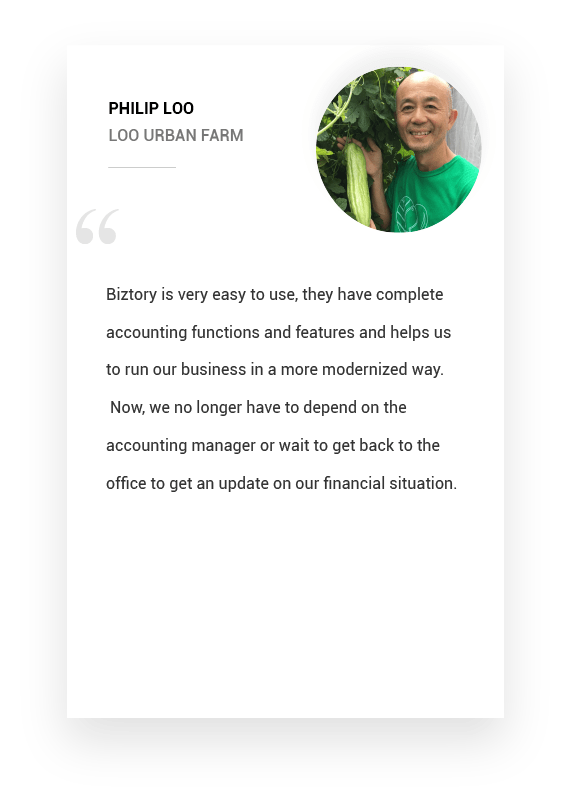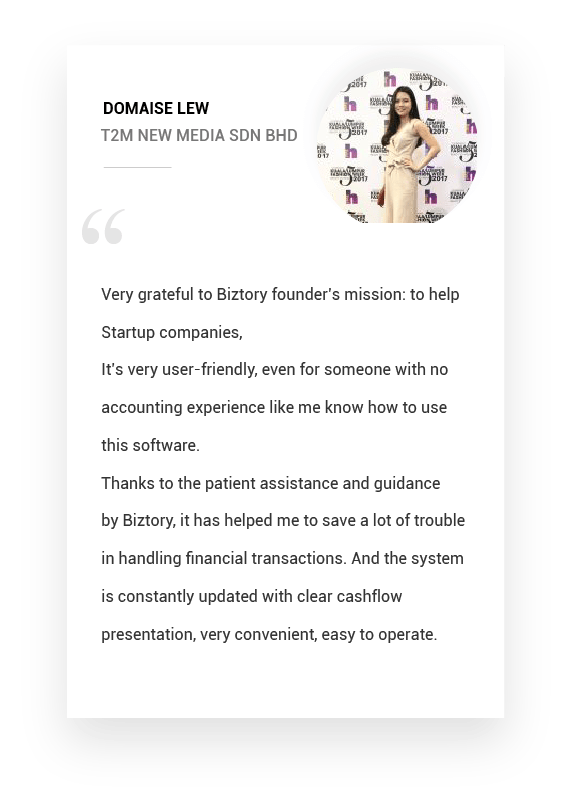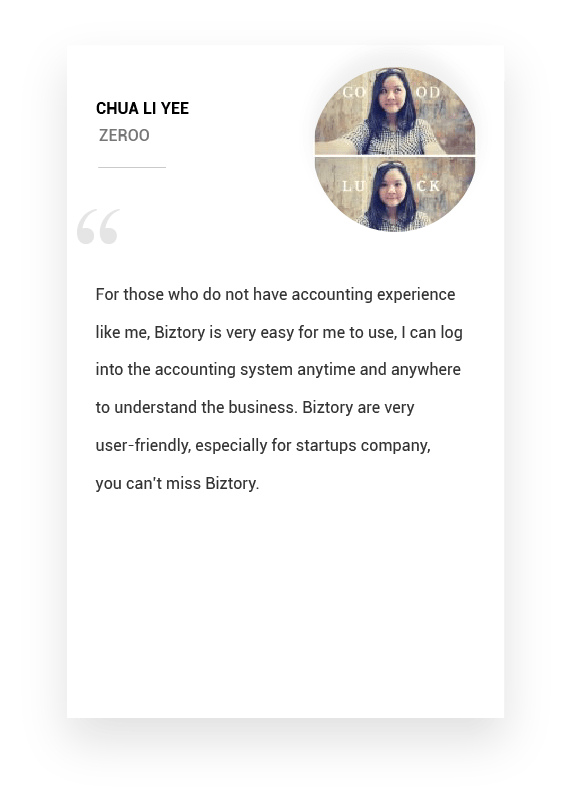 Now, join with other SMEs business owners to experience and learn how to manage your business accounting and taxes with ease!
With the recognition from our customers, Biztory has helped many SMEs business owners shorten their business cycles and get paid 4 times faster than ever!
You have witness what we said,
You have heard what we said,
Now, is your turn to sign up for Biztory FREE 30 days full version to experience in real.
Still have questions? We have got your answer!
Can I start from a FREE version and upgrade to a paid version later on?
Yes! You can choose to subscribe to the Biztory plan after you have experienced the trial version.
Will it be troublesome to register for a Biztory free account?
Don't worry, the process won't be troublesome. You just have to sign up here, set up your account and password to start using. All accounts will be secured by security settings.
I have registered a trial version account, but I still don't know how to get started.
You can contact our team and make an appointment for a FREE 1:1 Online Demo to share and demonstrate the functions for you personally. The appointment schedule can be arranged according to your time.
Can I login to the same account via multiple devices?
Yes, you can log into your account for billing and accounting whenever, wherever you are via any internet connected electronic devices.
Which Biztory plan do most users prefer and choose?
The majority of Biztory users subscribe to the M Plan (RM 99/month). *Yearly plan subscription may get 2 months for FREE Immediately.* Biztory M Plan is equipped with a full set of accounting functions, which enable you to issue bills and send invoices, control inventory management, set up recurring payments, generate complete financial reports, etc.
Do I need to add any additional fees to the Biztory plan pricing?
The Biztory plan pricing will be included with Sales and Service Tax (SST), and there will be no hidden fees. The Biztory plan has a fixed price according to the plan category.
What should I do if I had subscribed to Biztory, but my employee doesn't know how to use it?
Don't worry, all new subscribers are eligible to enjoy one training for free. However, we also offer on-site training for your company on certain charges.
PS: You can also use our 'HELP' customer assistance service to find out the solutions.
I want to subscribe to Biztory now, how do I make a payment?
You can log in to your free trial account and select the Biztory plan you would like to subscribe to, then fill in the necessary information, set up the payment method by using either credit / debit card.
If you want to understand Biztory immediately, our customer service is here to provide you with full support!
An outstanding customer service does not give you an answer right away.
But, we are willing to spend time and find the right answer for you!
Biztory also provides:
– Online Demo Tutorial(1:1 Online Demo)
In order to provide you a great experience with Biztory.