One of the biggest reasons why invoicing is extremely important in a business is because it helps you to get paid on time. Having a proper company invoice template to issue invoice will help you to build trust and also proper company image.
If you're here, you'd probably did a lot of "invoice template" searches to arrive here – all for the sake of a "proper invoice template".
"Free invoice templates"
"Blank invoice templates"
"Free invoice template Malaysia"
"Free invoice sample Malaysia"
The invoice serves as a record that helps you to trace and track unpaid invoices, identify recurring bills, and most important of all – reduce billing questions.
In this article, we will guide you through how to generate invoice online and automate your invoice creation for free.
Edit: You can use the table of content to jump to your free invoice template directly.
But before we deep dive into "how to create invoice online", you'd probably be thinking – an invoice should be pretty simple to create right?
Just need your own logo, a table for items, a column for price and quantity, and voila! You have an invoice ready.
As a matter of fact, invoice can go way more complex than that – things like taxes, SST, payment terms etc could be a headache to manage.
So before we dive in, here's how an actual invoice should look like.
Biztory Invoice sample
What Does A Sales Invoice Template Have?
A proper sales invoice template should include elements such as 'invoice', invoice number, date, names, addresses of both parties, contact persons, item descriptions, amount to be paid, and payment terms.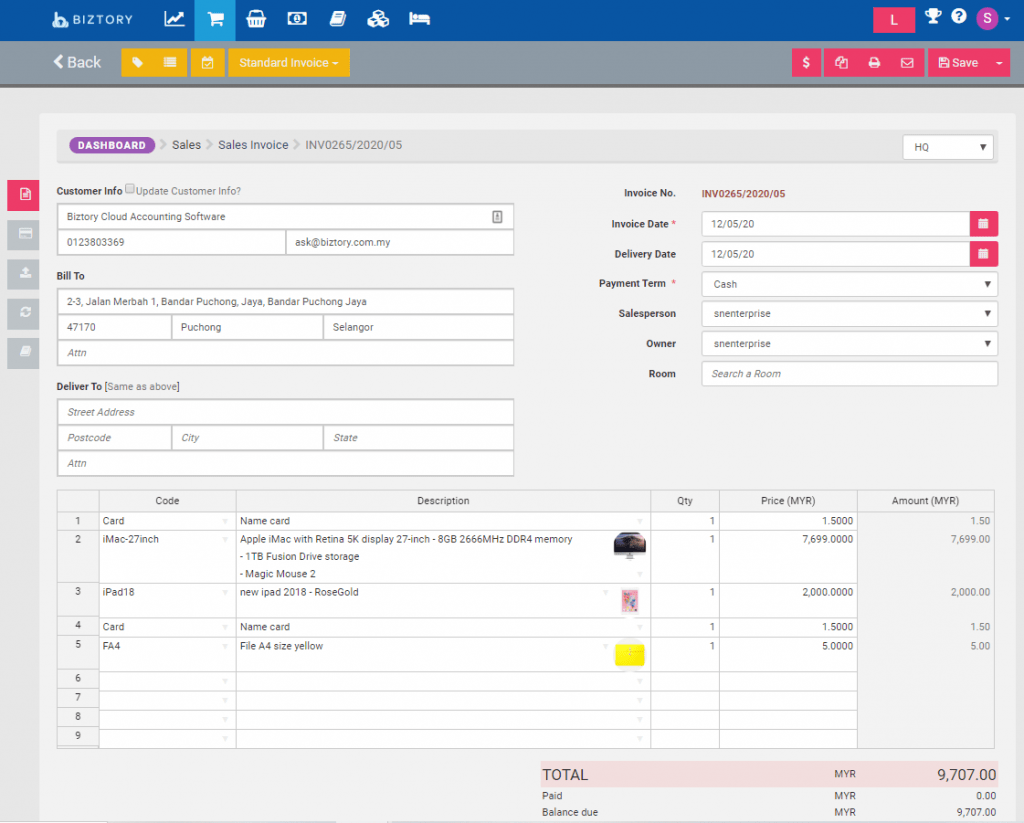 1. 'Invoice'
The word 'invoice' must be clearly stated on each invoice for easy recognition.
2. Invoice number
An invoice number is a unique number that allows easy referencing. For example, if payment is made via bank transfer, the invoice number is usually used as a reference; if payment is made via cheque, the invoice number is also quoted during cheque issuance.
3. Date
An invoice date gives your customers a reference point and provides a deadline for payment to be made. For example, if an invoice dated 03 March 2020 has a payment term of 30 days, your customer is required to make payment before 03 April 2020. This helps in payment monitoring and tracking.
4. Name and address of seller and buyer
The names and addresses of you and your customer are legal information that needs to be included in your invoice. This confirms a business transaction occurred between both parties and allows physical correspondences.
5. Name of contact persons
If there are different persons handling sales and procurement, stating the names of contact persons directly involved in the transaction will save the time you need whenever you need clarification on transaction purpose, commission, or payment.
6. Item description
Your invoice must include descriptions of goods or services that you have provided to your customers and the actual quantities. This detail will assist your company with inventory management, accounting, and tax.
7. Tax amount and discounts
Tax amount (SST, GST etc.) and discounts are important details to include as it gives your customers a clear view of additional charges applied and how the final payment amount is derived.
8. Payment amount
The payment amount must be stated as this is the amount your customer is required to pay you.
9. Payment terms
Stating your payment terms informs your customer of the payment due date and finance charges that may apply on late payment. It is a way to communicate your expectation to your customers regarding payment.
For example, your company has a payment term of 30 days with a 10% finance charge on overdue payment. Your customer who needs to pay you RM4,000 before 03 April 2020 will have to pay you RM4,400 if the invoice is paid on 12 April 2020.
Payment terms could also state how is the payment to be made, via cash, cheque, or credit card.
Instead of going through all these elements and templates, Biztory allows you to create an invoice instantly hassle-free. Try it out for free here.
How To Generate Your Invoice Template Online
1. Use Spreadsheet To Create Your Own Invoice Template
One of the popular methods is to rely on spreadsheets like Google Docs or Microsoft Excel to generate invoices, it is quick to start and everyone has spreadsheet software – all you need is proper invoice template – here's a quick resource for free invoice template to create your first professional invoice.
While it's quick to start (especially when you're cash-strapped), if you're in business for a while you are more than likely to run into issues like:
Unable to properly track invoices, especially when you're on the go
Difficult to navigate in the spreadsheet using your smartphone
You can only issue an invoice when you have your laptop with you
What if there is a better way that allows you to:
Issue invoice whenever you are, wherever you are (even when you are on the go)
Understand in 30 seconds who owes you money and what to do with them (everything in a simple dashboard)
All you need is a smartphone with a Biztory app.
2. Use Biztory To Create Your Invoice Template
Biztory allows you to generate a professional invoice within 7 seconds. All it takes is for you to click and send. The best part? You can do it on your smartphone too.
Not only it's faster and more efficient, but it also saves you time by enabling you and your colleague to issue invoices directly instead of relying on your accounting girl.
Generating Invoice with Biztory
If you are using Biztory cloud accounting software to create an invoice, you can follow the image below and fill in all the details needed, it is quite straightforward and easy to manage.
Create invoice in a easier way.
a. Fill in "Customer Info" and "Billing info".
b. Fill in the invoice information.
c. Fill in all the items' details.
d. Additional function bar (icon from the left: Add payment term, Add discount, Add extra details/information, create a new payment term).
e. Click to "SAVE" your invoice or view the arrow for more options.
By filling in the invoice details and information, you can save it as pre-written invoice information for repeat use.
Alternatively, you can also choose to convert the quotation directly into an invoice in just a click which allows you to further speed up the process. This will help you to reduce human errors.
Most importantly, it helps in increasing automation and reduces your workload compared to using templates.
Whatsapp your invoice easily
With Biztory cloud accounting software, your invoice and information can be saved and stored in the cloud securely online. You can access your invoicing account, create and send the invoice via Whatsapp or e-mail anywhere, even while on the move, which can be beneficial for those salespeople. In addition, you can also save multiple emails on your sales invoice information and send the particular invoice to multiple recipients in one go.
Setup Recurring Bill With Biztory
In some businesses, you may want to repeat your billing to the same payee over a period of time, such as gyms, coaching or tuition centers, condominium management.
Rather than creating it over and over again, you can also set up the recurring bill so that Biztory could help you auto-repeat the billing on behalf of you. Hence, when the date arrives, an invoice will be auto-generated by the system.
Recurring Invoice
Many invoicing processes online have become automated, it can be also used to track and record the payment overdue. By using Biztory, you will be able to know how many days each invoice is overdue and you can choose to let the system to auto-send a reminder email to your customer for overdue invoices. Thus, you can keep an eye on your real-time cash flow status and know the situation of the unpaid invoices.
To help you to generate your first invoice, you can sign up for a 30-days free trial account without filling in your credit card details. No strings attached.
Full-Set Cloud Accounting Software
Biztory is more than an invoicing software, we are a full-set online accounting system which simplifies accounting for SME business owners such as:
Customize your own invoice
Schedule your billing
Sets up your recurring invoices
Tracks and traces your invoices
Generates your sales and financial reports
Integration with Kakitangan, Hong Leong Bank
…and many more
Not only that, but Biztory also allows you to access all your important business metric 24/7 via an app, the best part is – you don't need any accounting know-how to use it.
Sales Data Analysis with Biztory
Other than just sending in to request for payment, invoices are also used to track sales, inventory trends and stock level, commission payment, business revenue and more.
By spending some time looking into your invoices, you will be able to find out crucial business performance such as:
What are the best-selling products?
What are the latest product trends? Do I need to stock in more?
Which account owes me the most money? What is the top 20 list?
When is the next billing cycle?
Which month of the year recorded high sales volume? What is the reason behind the growth?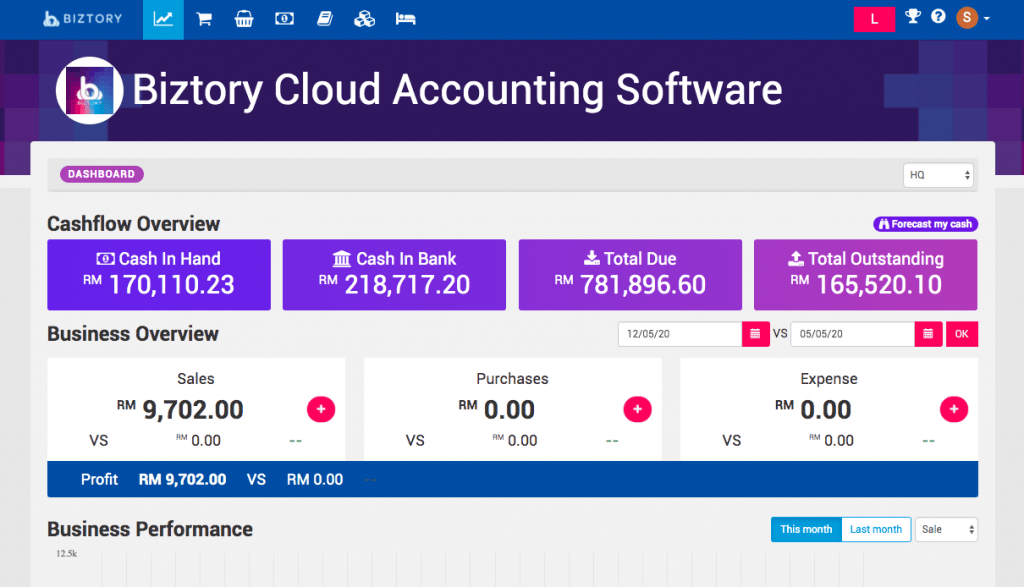 While doing sales forecasts and managing inventory levels can be done with spreadsheets, most of the time it's quite taxing and hassle (unless it's a one-off analysis).
Biztory is able to automate and populate crucial information for you to understand in a glance. You will know the total amount that your client owes you when to bill them and many more.
Try Out 30-Days For Free
Don't take our word for it, why not try it out on your own to see how it works? Click here to get a free 30-day free trial.
You will be hand-held throughout the process, there will be 1:1 sessions which you can attend to help you to get up to speed and many more
Frequently Asked Questions
What is an invoice? Do I need them?
An invoice is a document that includes item description and payment that you give to your customers after completing a sale or service. If you want to be paid for your services, you need an invoice.
Can I issue a receipt instead?
Only issue a receipt when you have been paid, issue an invoice to request for payment.
When to invoice a client?
You should give your invoice to your customer right after goods or services have been provided.
Is the invoice number important?
It is important for reference as you or your customer will likely quote the invoice number during payment, or queries.
What is the best way to assign invoice numbers?
Invoice numbers consisting of client code, month, and sequence of invoice is ideal e.g. GLC-202004-001.
Difference between Invoices vs. Purchase Orders vs. Bills