Until now, the epidemic has not been resolved, and there are new confirmed cases everyday in our country. Therefore, our Prime Minister has extended the Movement Control Order (MCO). I believe that the friends who are focused on current affairs news also know that a few weeks after the release of MCO, there have been successive small and medium-sized enterprises (SMEs), and traditional businesses cannot be turned around or transformed and closed down unfortunately. Even so, the crisis is a turning point for Biztory, Biztory has not subsided due to the impact of the MCO. Instead, the business has become more prosperous, and the company's internal operations were all in order. Because of the epidemic situation, many sellers have started to make live sales, online sales, and focusing on online work to make money.
The meaning behind of running a live course
During the epidemic, it is not difficult to notice that many sellers have started to turn online, but some traditional businesses are still walking on a treadmill. The main reason is that they do not know where to start and how to transform, so Biztory wants to take this opportunity to host an unprecedented live teaching course to help these traditional businesses owners who have no way to start or transform business, such as sellers of wholesalers, furniture sellers, clothing sellers, street hawkers, as well as freelancers. We hope that they can create business opportunities through this lesson and change the business model.
When Biztory announced the launching of the premium live broadcast course, everyone participated enthusiastically, and the number of applicants reached 45 in just 5 days. The time duration of this live teaching course is 5 hours and there are 5 courses in total. The presenters of the 5 related courses are all excellent talents who are proficient in this field, and have extensive experience. They do not want to "keep and bury" what they have learned, but to convey and share it with everyone so that everyone can learn new things and skills together. This gives the participants the opportunities to apply it and do well in their businesses. The idea of "I will do it myself" is not the style of Biztory members.
Behind The Scenes on the day of live broadcast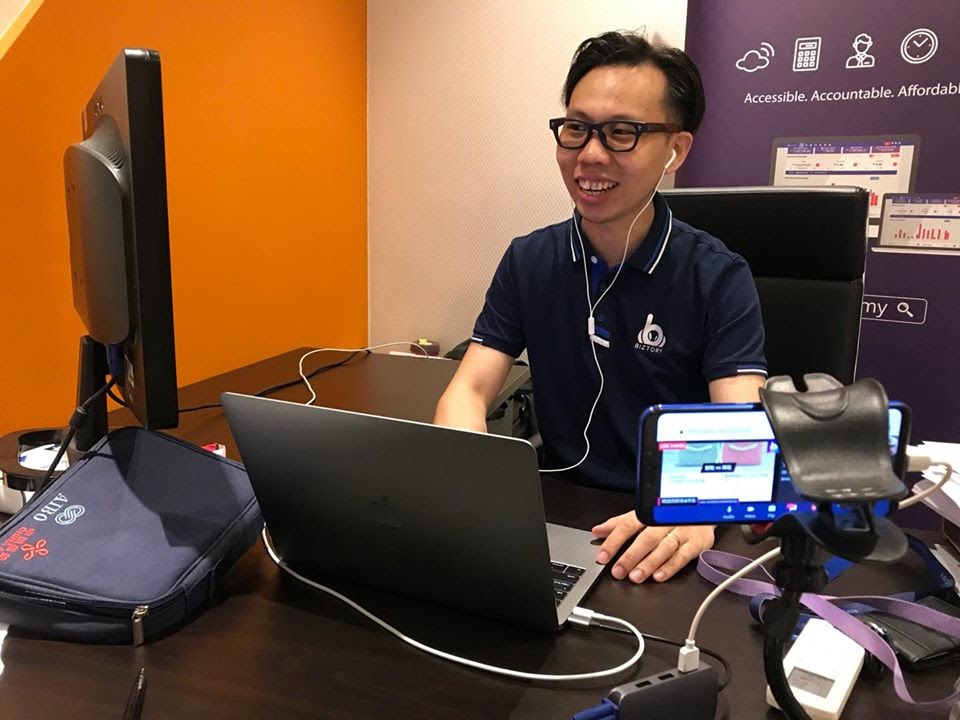 The 1st Course: Tips on Work From Home Management
On May 6, 2020, it was the first day of the Biztory live broadcast workshop. The live broadcast that everyone was excited and waiting for was finally here. Starting at 12.50, more than 40 audiences have already stayed and watched our live broadcast. First of all, our Biztory founder – Bryan greeted everyone as a good intention. At 1 o'clock, he began to lead everyone into the first course, "Tips on Work From Home Management". The content mainly talks about the importance of remote offices, 7 know-how, and tips for office management, super easy-to-use remote office assistants and tools, etc. When Bryan recommended the super-helpful assistants, I strongly agreed. After all, these softwares are also useful when working in Biztory, so I can understand how practical the "little assistants" he introduced are, and it is convenient for us to continue working at home. Biztory is a smart business assistant which can help you to manage the business and handle your daily accounting with the most trustworthy cloud-based data protection anytime, anywhere.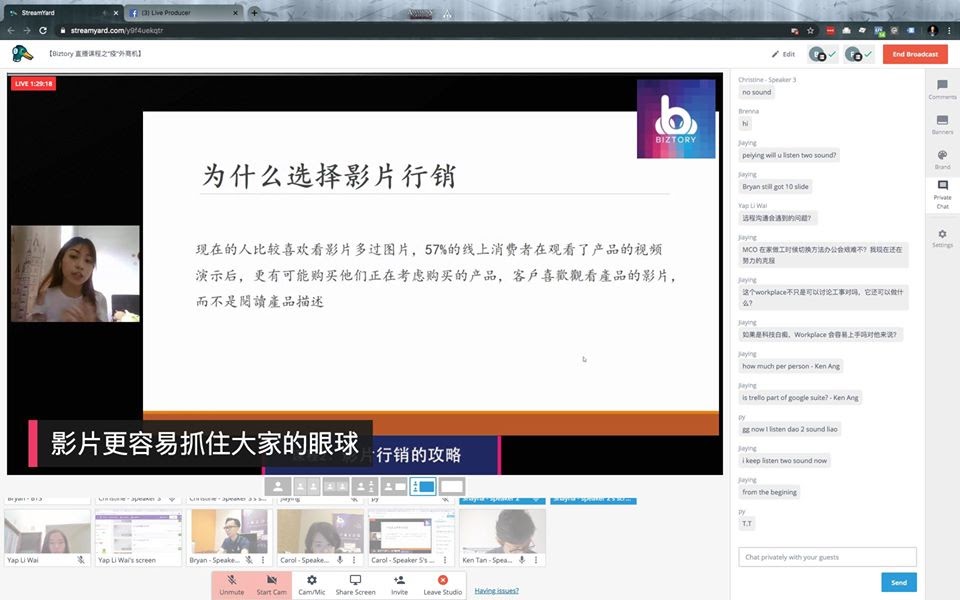 The 2nd course: Video Marketing Strategies
After the lecturer of the first course finished sharing, it was already 2pm, so we entered the second course. The second course is taught by our lovely and charming presenter – Shayna. The topic of her lecture is "Video Marketing Strategies", which mainly shares what is video marketing, the trend of video marketing, and teaches how to make a high-quality video as well as what equipment is required. I am a person who loves to watch videos, so I am particularly interested and pays attention to this kind of topic. After listening to her sharing, I realized that making a video is not as difficult as I thought, as long as you have the heart to do it, the video will definitely attract the audience's attention. Of course, to make a video that attracts millions of audiences to watch is not something that can be done in a day. You still have to learn more skills, practice constantly, and keep up with the trend. If you are finding effective ways and tips to improve your business management, Bizkolah is your savior. It is a series of short videos that educate the crowd about a wide range of knowledge such as business management, personal advancement, and tips on how to use Biztory to improve your work efficiently! You may Like / Follow our Bizkolah Facebook Page and stay tuned to a new video every Thursday.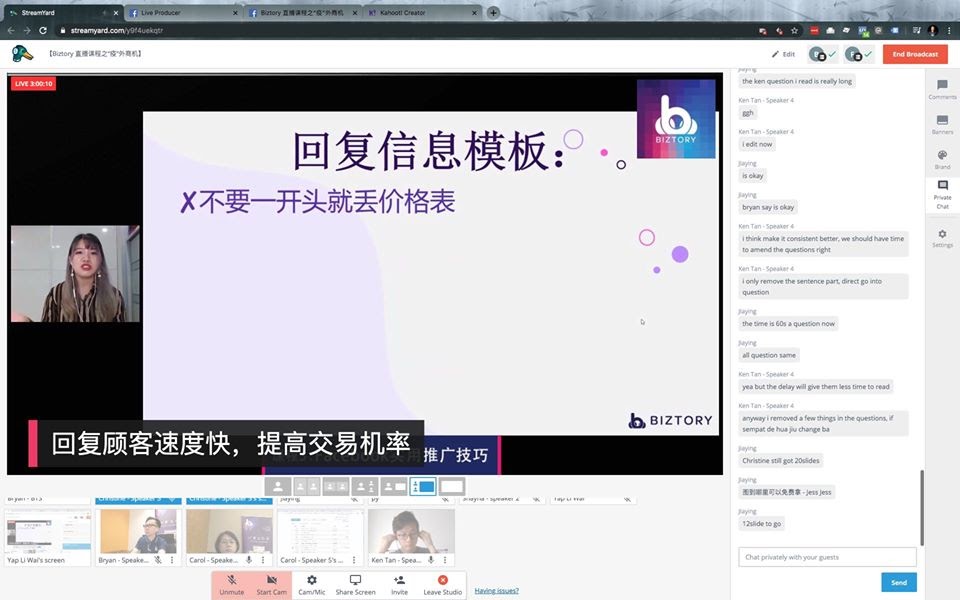 The 3rd course: Facebook Practical Promotion Techniques
After that, at 3 o'clock in the afternoon, it was our third beautiful speaker – Christine! The course she taught was "Facebook Practical Promotion Techniques". The content started with taking everyone to understand the trend of Facebook promotion, and also introduced several free promotion methods. She had taught us the ways of designing a board copy, the professional management method, and the secrets of rising fans. Finally, she also shared the tips and steps for placing Facebook Ads. Anyone who participated in this live-streaming course will know that the materials prepared by the presenter are quite complete, and she taught everyone with a step-by-step teaching method, hoping all listeners can easily understand and know how to operate Facebook promotion. I also believe that using Facebook to promote is one of the indispensable promotion methods for every merchant. As Christine said, according to research, Malaysia has about 25 million active Facebook users every month. Therefore, the potential customers of Facebook are very large, it is also easier to promote your products by using Facebook. To update with our latest information and social content, you may like and follow our Biztory page and you may check out how we manage Biztory Facebook page as well.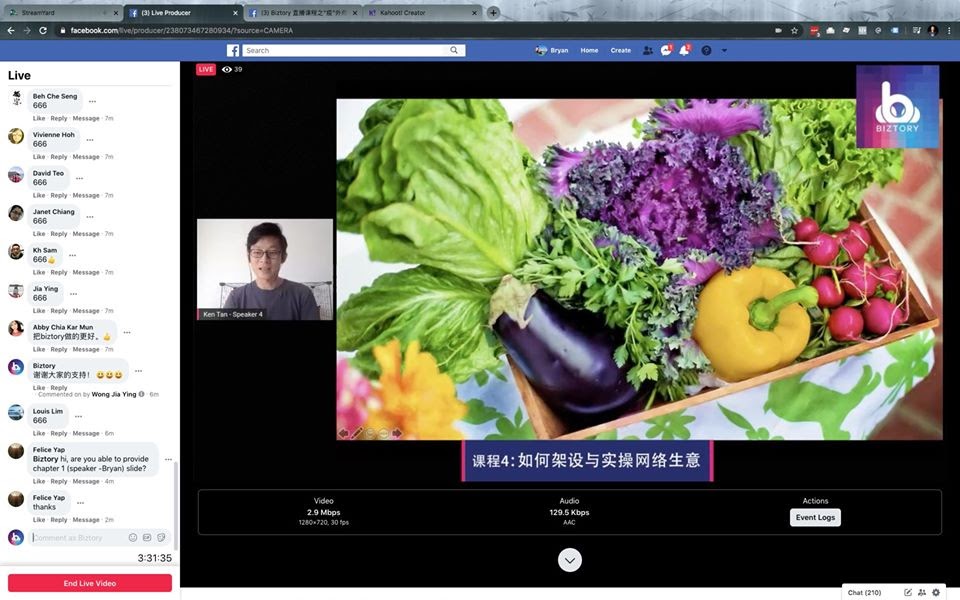 The 4th course: How to Set-up and Practice Online Business
In the fourth class, Ken Tan, a senior full-end engineer in the technical department of Biztory, will give a lecture on "How to Set Up and Practice Online Business". The content teaches you how to open and install an online store. The speaker had explained the advantages and disadvantages of each method carefully. After listening to his professional sharing, I also feel that I have taken a valuable lesson and it benefited me a lot! One of the points that I remembered the most is the BizPay that Ken mentioned. You can place an order as soon as you click the link, and view all order items through the Biztory system. The most important thing is that you do not need to register for Payment Gateway or worry that there are any problems with errors or transaction fees. It is really convenient to use and suitable for current live broadcast sellers as it allows customers to place orders directly in the live broadcast room.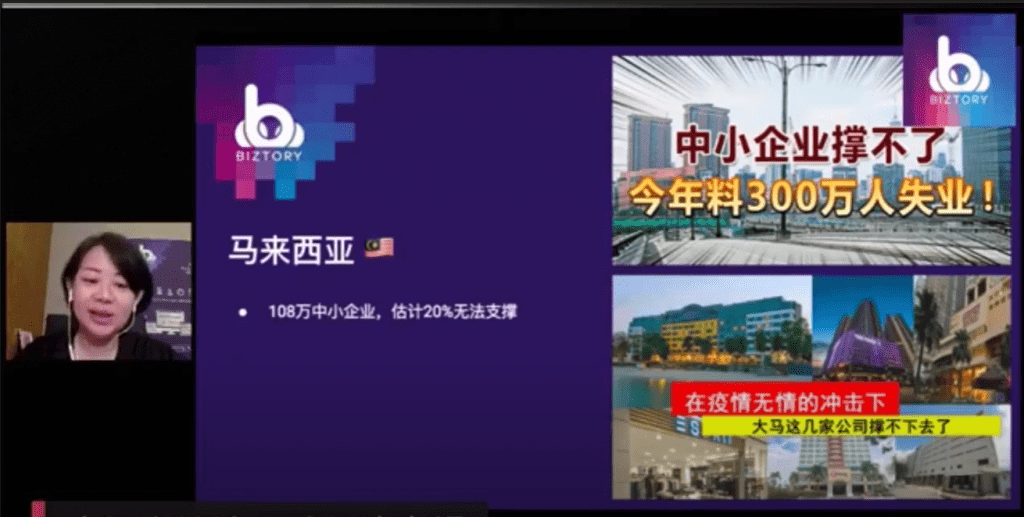 The 5th course: "Unexpected Business Opportunities in the Epidemic"
Soon, the live class is almost over, and the last class will be shared by Biztory's proprietress – Carol. Her keynote topic was "Unexpected Business Opportunities in an Epidemic", sharing about possible ways of business transformation during the period of the epidemic, and how to find a way out. Besides that, she also gives some real life examples to see how other companies created business opportunities during the epidemic. Carol's fascinating speech made the audiences feel clear and logical, everyone seemed to feel that they had the opportunity to turn over the salted fish. My personal opinion is that the outbreak of the epidemic does not mean that you are about to end your dream of doing business. The key is to think of a good idea and find the right way out. It is very important to keep learning from others. Others can, and so must you! During the period of the epidemic, if the seller wants to make more money to make life easier, he can use this opportunity to expand new business. Biztory cloud accounting software has entered its fourth year. Now, more than 6,500 organizations have registered to use Biztory in 60 cities across the state, issuing up to 30,000 invoices every month. The benefits of becoming a Biztory Reseller are more than you expected. Biztory promises you a yearly recurring return, and the after-sales service is also the responsibility of Biztory so that you do not have to worry about anything. Don't miss out on the opportunity to start your business dream, join now – Reseller programme.
Thank You all for your participation
In this way, the Biztory live broadcast course came to a successful conclusion, and I was very happy to announce that this live broadcast was very successful. Most of the participants gave a warm response and interacted with the presenter during the live broadcast. After each course, we also played an interactive Kahoot game with the participants and many of them have won prizes. We were very pleased to see that everyone is actively participating. It does not mean to sympathize, but it is not a simple matter to work remotely and hold such a live broadcast course. It requires everyone 's cooperation, tacit understanding, cooperation, and most importantly, the network cable must be good to complete the live broadcast.
A week before the live broadcast of the course, the Biztory members began to plan non-stop. Every speaker and behind-the-scenes staff made full preparations for this live broadcast. There were also rehearsals for many times so that the live broadcast could be successful on that day to go smoothly without disappointing everyone. You only watched 5 hours of live broadcasting in that area, but in fact there is such a tremendous effort behind it, so if there is such a live broadcast again, I will cherish it and will support Biztory as always. Of course, the first time everything is made, it may not be perfect, and you will get all kinds of comments. We will be very grateful for the good comments; as for some comments that give us suggestions to improve the live course, we will also listen and improve, and we will do better next time. I hope that in the future, we can organize more and more interesting activities for everyone to participate in to provide benefit, and communicate with everyone.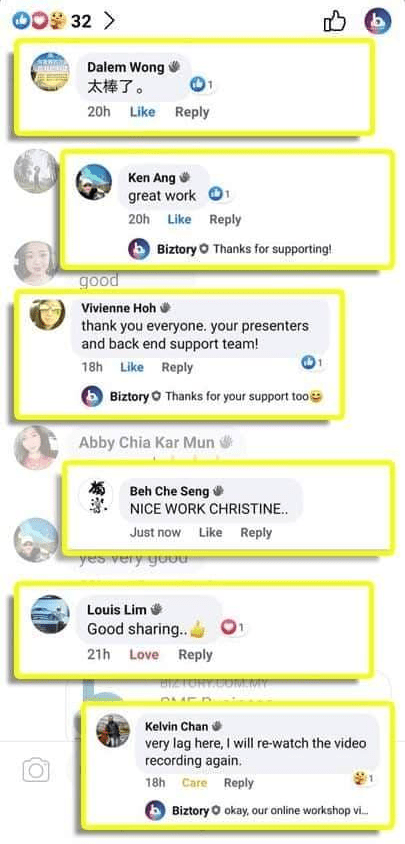 Want to know more about our upcoming event and webinar? Stay updated with us by following our Facebook – Biztory Page, might as well personal message us to get more details for the better understanding of Biztory.

Writer: Yap Li Wai